Affinity Vision Australia Pty Ltd
Local IT Services, Local Tech Support
Local IT Service Provider
(Wi-Fi / Broadband / Computer Upgrades & Maintenance / General IT Support)
We Provide Security & IT Services for Home / Small Businesses
Servicing the City of Casey & close by localities
& Other areas by arrangement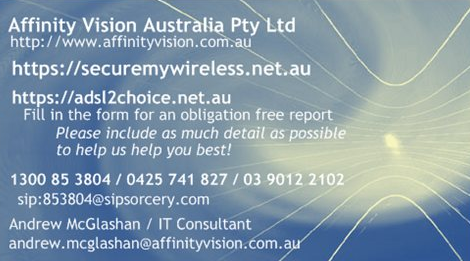 NB: The 1300 number is no more, ditto for the Sipsorcery address.
Also, the ADSL2 (adsl2choice.net.au) domain is no more, obviously we support NBN these days.
Click Here for Information on Consulting Services
Contact us and we'll be sure to advise on which products / services are actually availalble for your location....
We offer a range of ISP products and related equipment to suit your needs.
Exetel
VoIP services are available
(may save considerable telephony costs on suitable broadband services)
FreeCall, Mytel and Faktortel [independantly of ISPs]...

---
---
For those with security concerns with email, you may send the information via fax or snail mail

Fax. 03 9012 2178 (alternate fax on 03 8790 1224)

Postal Address: "PO Box 5093 Hallam VIC 3803"
Old Postal Address: "PO Box 2299 Fountain Gate VIC 3805"


---
---
Please support these following sites ...
The Hunger Site
Breast Cancer Site
Child Health Site
Rainforest Site
Animal Rescue Site
---